Just recently, the phenomenon of artist Dinh Phong has attracted the public's attention when his exhibition "The Flying Man and his Surreal Dreams" was held in Hanoi (in

November 2020), which was viewed and discussed by renowned artists and researchers such as Nguyen Quan, Ca Le Thang, Luong Xuan Doan, Dao Chau Hai, Le Thiet Cuong. Poet Nguyen Thuy Kha was also inspired to write poetry in his honour. The following is an in-depth research paper on Dinh Phong by critic Truong Nguyen Nga, which was just
Dinh Phong fell in love with painting when he was only 19, and yet it took more than 40 years before he was able to launch his first exhibition. Nearly 70 works, including paintings, bronze sculptures and ceramics, were showcased to the astonishment of both professional artists and the public. Even more surprising is the fact that most of the works were created within six months, which proves the amazingly hard work of the artist. Is it the outcome of a fit of trance that the man has gone through, or is there any other reason?
Art always has its own unpredictabilities. There are people who choose art as a career for themselves, while some others are chosen by art as a "karma". Perhaps Dinh Phong belongs to the second case.
Abstract art is a school of painting. At first glance it seems you can draw in any possible way and what you draw can be called "abstract". The truth is completely different. Abstract paintings are really deep reflective thoughts, inner tensions and torments that sometimes haunt the artist's life. Those lines, patches, blocks of colours that seem to be random and appear to come and go in a whimsical manner, have in fact been compressed in Dinh Phong's mind for an unmeasurably long time. And then came one ripening day when his mind could no longer bear the built-up repression, it forced him to let it burst outward, unleash it onto the canvas, thus producing abstract works.
Despite visual arts theories and in spite of the academic confinements, Dinh Phong's paintings at first glance seem like moves of the trowel, mixed-coloured brush lines full of childish innocence, like the young face of the man.
What is outstanding in many of his works are the blocks, discrete colour segments that seem to be interrupted, to have no connection in the physical meaning. But in fact they are thoughtful breaks, close bonds full of philosophy on human condition, arising from the subconscious of a sentimental soul, creating many reflective thoughts for the spectators.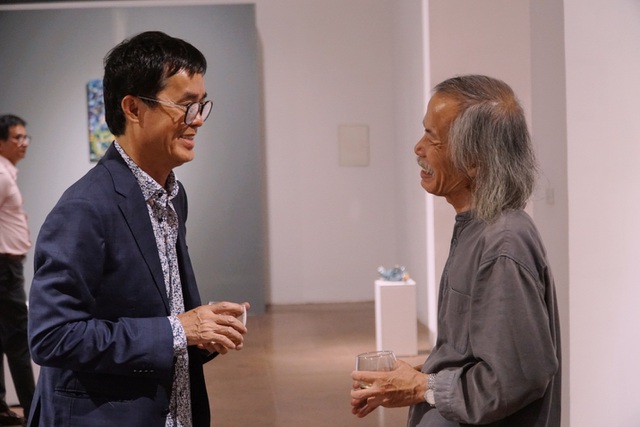 Artist Dinh Phong and painter Luong Xuan Doan, President of Vietnam Fine Arts Association. He told Vietnamese charming newspaper that "Dinh Phong is a person who is predestined and chosen by art".
If you compare all his works that have been released, there is a big paradox in Dinh Phong's works. Normally, most of the works of artists often go from the dynamic towards the static. On the contrary, he goes from the static to the dynamic.
Starting from vague emotions still hidden somewhere in his mind, the Ore Seams (Vỉa), Scratching (Cào), Hallucinations (Ảo), Whirlwinds (Lốc)… are born, one after another, in a quiet space. When emotions grows, Rhythms (Nhịp), Stun (Choáng), Fall (Rơi), Dream (Mơ)… continue to be born with a faster rhythm, then speed up, break the colours, beat the rhythm with the Holes (Hố), Ovens (Lò), Figures (Hình), Blocks (Khối)… with the culmination in Howls (Hống) which was born after moments of madness, when his inner torments suddenly art. 
Contemplating Dinh Phong's paintings, is it that we have a glimpse of ancient Egyptian images? The semi-hidden shadows of Champa from a thousand-year past? Are these remaining artifacts of the Oc-Eo culture? Or pictures of villages in the Northern Delta region? Or are all of these melded from the mind, arising through Dinh Phong's experiences? Probably only he knows best.
The knowledge and images accidentally or intentionally grasped and contemplated nearly all of his life, which have gradually settled into the subconscious, are what made him every night hear the distant sounds, the vague images from the dreams that he calls "Dreams of flying", which one day exploded to become abstract paintings. Although there still exists things to discuss about this or that painting by Dinh Phong, but the connections, the soft and continuous colour transitions in all of Dinh Phong's works really bring a new wind, a novel vigour to the country's art space, which is enough for him to step in the castle of art.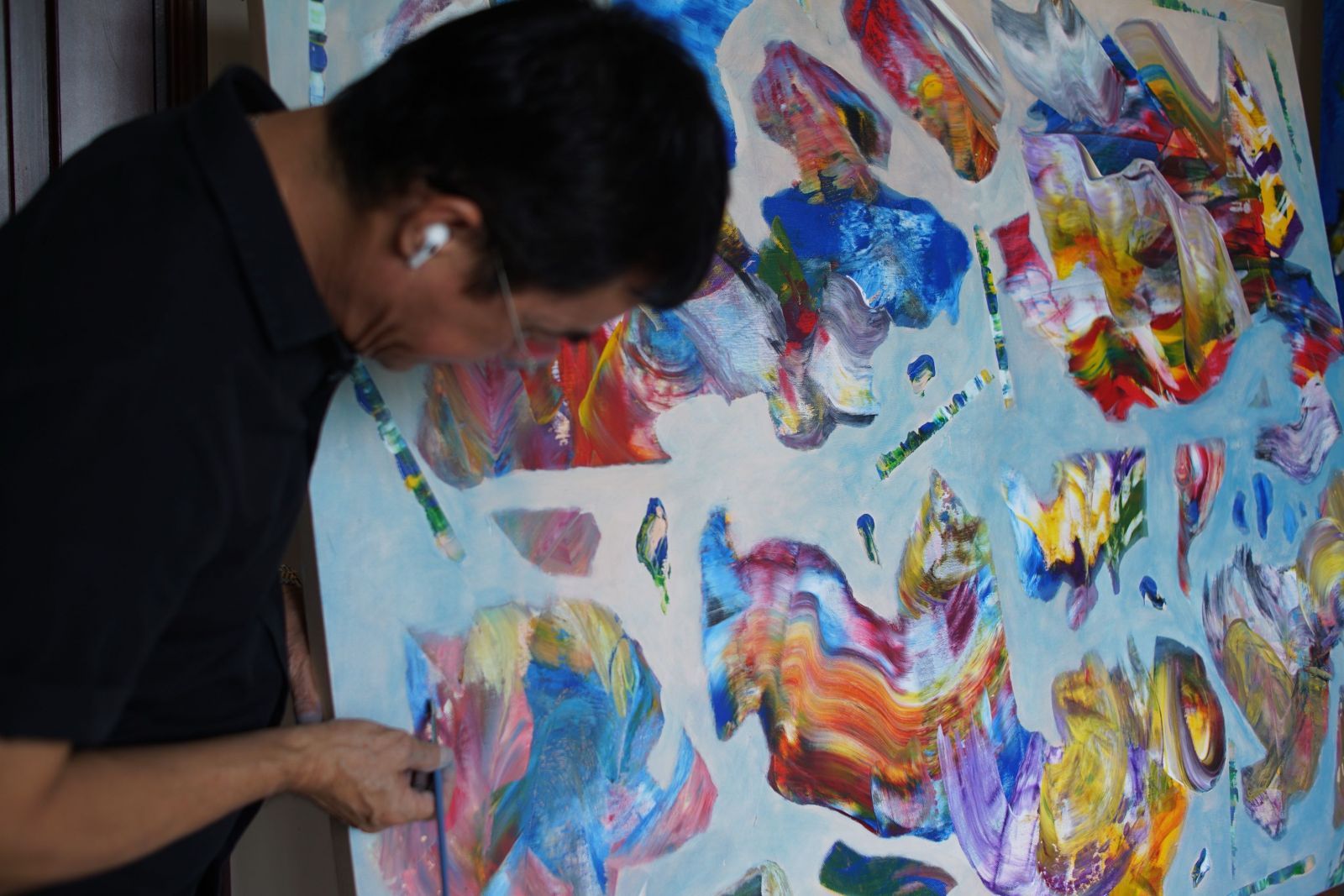 Not stopping at painting, the desire to realise dreams continued to push Dinh Phong to switch to sculpture. There, the ambiguous spaces in the paintings were transferred into another language through his efforts. Despite the difference in languages and forms, the audience can still feel and recognise the overall connection chain and the consistency between painting and sculpture in all of his works. Through the sculptures, Dinh Phong's dreams tend to gradually proceed toward reality.
His works, though contemporary in style, retain a softness, a profoundness in each structure and line. That pulls viewers into a different dimension of perception, and evokes many different reflections. Seeing Dinh Phong's sculptures makes us think that we are seeing antiquities of once brilliant civilizations that died out in the past; now unearthed – ambiguous, mysterious, yet very real. Exactly so: haven't these works been unearthed from the subconscious of most of his life? And again, after initial bustles, Dinh Phong continued to work on a new series. His latest works tend to exploit many layers of depth, containing many hidden concerns, many new dimensions. How are the results? We still have to wait and see.
However, we – the viewers -, while watching Dinh Phong's works, do not need to find out what the author painted or how to draw. Once he has used his own emotions to compose, outsiders should only use their personal feelings to admire, to learn and to encounter with some empathy in the art space called abstract by a player from the dreams, chosen by art.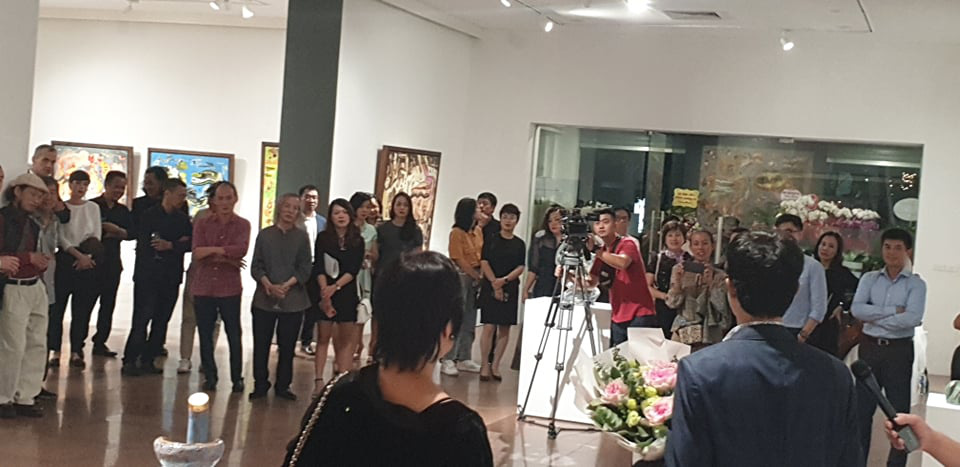 Hoi An in the last days of 2020.
Researcher Truong Nguyen Nga
---
DINH PHONG ART GALLERY
Workshop: Cay Xanh Hamlet, Chau Thanh Dist., Tien Giang Province, Vietnam
Studio: 145/12 Nguyen Dinh Chinh St, Ward 11, Phu Nhuan Dist., HCMC
Email: phongdinh.artist@gmail.com
Web: www.dinhphongart.com