The second exhibition of paintings and sculptures of artist Dinh Phong, with the theme "Surreal Dreams", opened at the Ho Chi Minh City Museum of Fine Arts, on the evening of April 11, 2021. It attracted much attention in the community and was enjoyed by the general public. Duyen Dang Viet Nam (Charming Vietnam) introduces the poet Nguyet Pham's article, just published after she came to see the works herself, with emotions and thoughts still afresh out of the artist's creative world…
I have come across a dream world that is imperfect, flying randomly and yet harmonious and rational. In that space, I found a relaxed and pleasant feeling, even though he didn't deliberately create a pleasant atmosphere.
To me, Dinh Phong's art space is a sedimentary, magical, and profound one. The first time I lost myself in it, I felt a vague feeling as if I were lost in an old dream of my own, or as if thousands and thousands of years had passed.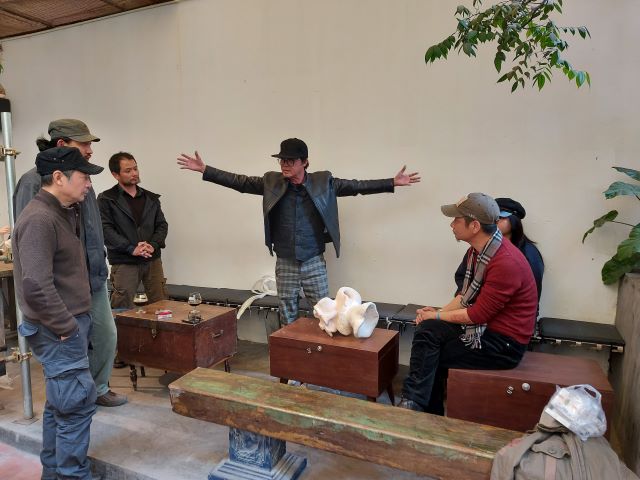 In my opinion, Dinh Phong's paintings belong to the line of abstract paintings with enumerating, juxtaposing layouts. On that surface, a great multitude of "wealth" is exposed, countless stories are told at once as a collection of screens, each projecting its own movie, all by itself, on a large screen.
All of them have a common connection, which are the artist's colours and unconscious aesthetics.
The structure and composition of the pictures at first feel like a random, disorganized arrangement, but when we move away to get a comprehensive view, we see negative and positive spaces (shapes and voids) interweaving with each other in the same way that fabric patterns move, trees and rivers intertwine and avoid each other to create a harmonious environment.
In addition, the fragmentation of the patches is saved by the strength of dark and light colours, which makes the composition even solider, stronger. He created a world for "The letters of a mysterious dead language" to freely flail, freely swim.
And it is that which causes the feeling of vague, dreamlike nostalgia for a distant past life. Viewers will develop a desire to connect, create a seamless whole, assemble things like a logo game from which to imagine a portrait, a person, a mysterious, profound, interesting artistic character.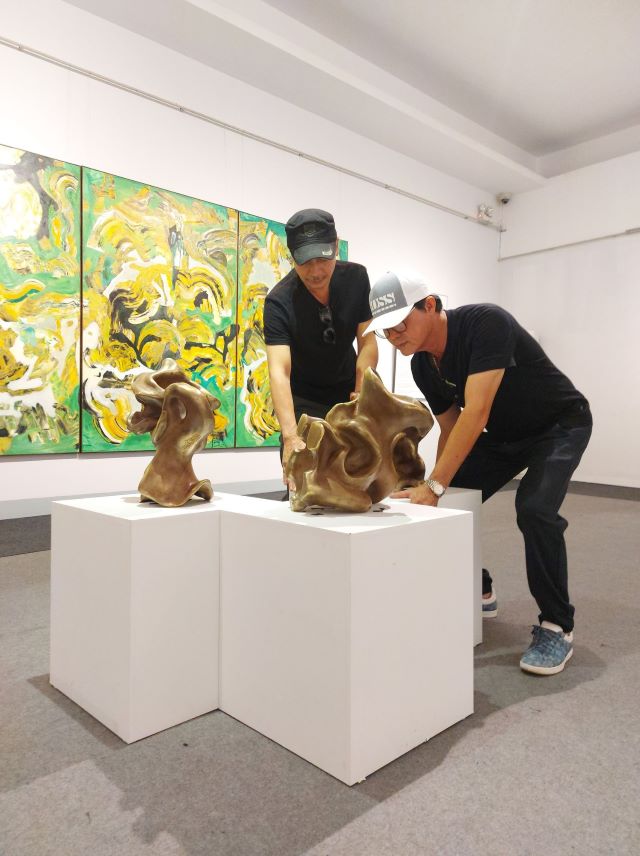 The sculpture of Dinh Phong in my view also comes from the abstract school. Due to the artist's habit of collecting antiques, perhaps, the works also have an antique look.
Artifacts are like fragmented pieces of memories unearthed from ancient subconsciousness. A cultural museum of individual consciousness. Dinh Phong's sculpture pays great attention to the mass of yin and yang (recesses, protuberances) that both resemble fragments – seemingly scattered and yet showing a harmonious balance – and a complete whole.
In particular, his sculpture is not for understanding and dreaming. His works are for contemplation, too. The angry slashes are the marks of fractures, breakages – what else can it be if not the result of crisis, under the weight of overlapping traces of human life, of forgotten time?
One can find in Dinh Phong's sculpture the ravages of time, but on the other hand you can also come to the epiphany that time itself will cut off cumbersome entanglements.
And, beauty doesn't have to be perfect, beauty is what remains through time!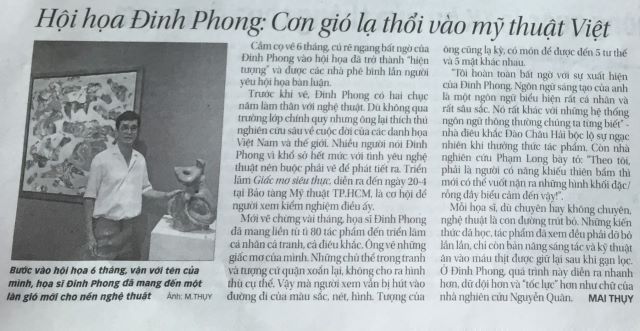 On the other hand, Dinh Phong's works show the unification of Painting and Sculpture in his creative world. Sculptures are like pieces of tangible material separated from Painting dreams.
The use of ceramic and copper to produce works demonstrates the meaning of exploiting the geological strata of time, like the strata of human consciousness. Each work seems to contain many secret stories of the past. People watch and listen to it, and then suddenly, in that tranquility, hear their own dreams. Hidden aspirations for life emerge. Secret desires show themselves, craving for liberation…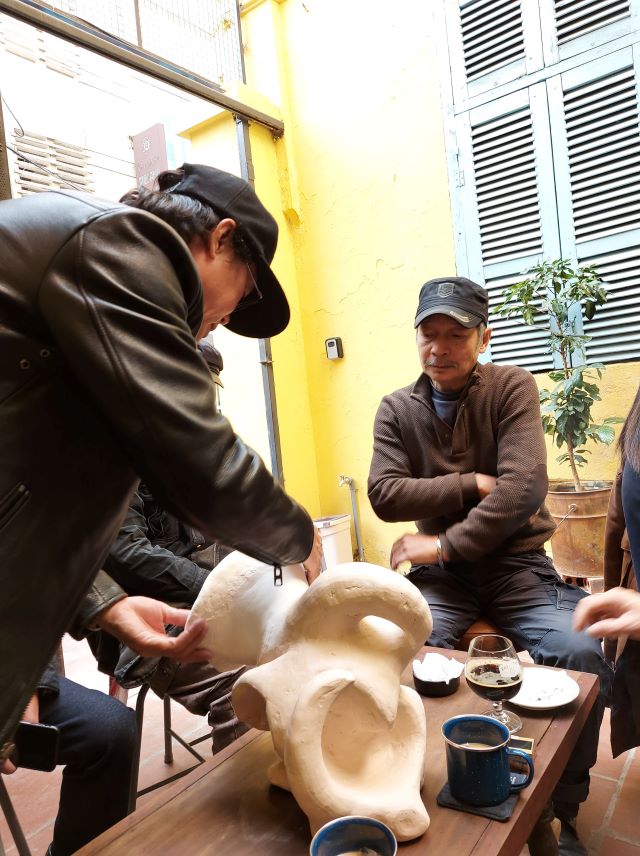 (In Saigon, watching the exhibition "Surreal Dreams" by artist Dinh Phong, opening at the Museum of Fine Arts of Ho Chi Minh City, on the evening of 11.4.2021).
Poet Nguyet Pham 
According to the online version of Charming Vietnam