Director Chau Quang Phuoc is a pretty famous name in the 7th art world, with his sharp critiques, comments and analyses about films and cinema in general. Also, with his very original way to look at things, he made a careful and well-informed account of "Surreal Dreams", showing unrivalled perspectives and findings. Duyen Dang Viet Nam is pleased to introduce it here below.
That day, I went to the opening of the gallery exhibition "Surreal Dreams" by Dinh Phong with a completely unprepared mind. I was unprepared as of what new language of art I would be seeing; and then, from the moment I left, I'm always in doubts and daydreams.
I'm not an "agnostic" either.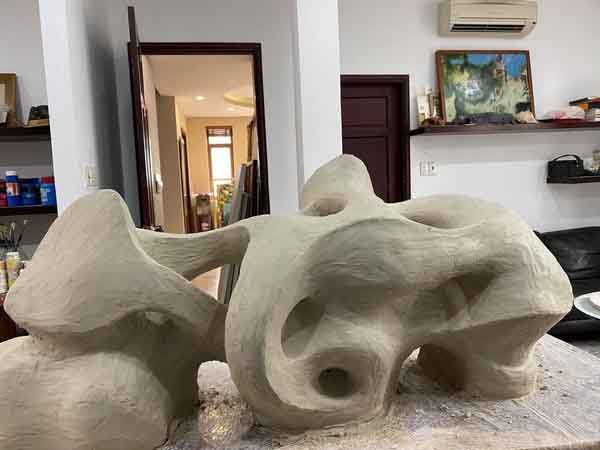 For the past twenty years in Saigon, whenever I have the opportunity, I'd go to see my friends' exhibitions, usually just the opening ceremony. Rarely do I go back for a second view. It's not just because seeing it once is enough, it's because I'm aware that every artist is full of controversial thoughts, with numerous rivaling concepts in each of their exhibitions, each stroke of their brushes. But the fastfood era seems to have begun to dominate our life in the forms of the daily hubbub for most urban people, and even encroach upon the self-rewarding enjoyment of independent, individual exposure to art. That makes me feel like indifferent myself every time I attend an art exhibition.
So, will it be different if you go to the exhibition of paintings and sculptures by Dinh Phong?
No. Although yes also. A lot! It is because, up to this point, after a few days of withdrawal from the initial feelings from watching this new series of paintings by Dinh Phong – a talented artist who started his career a bit too late in his life -, the main thing is to let me stay away from the comments of too many famous people in the fine arts circle. What I want is to see the works with my own eyes without having read anything beforehand, so I can read something all by myself in these paintings, in this man. Actually, the most important is what you get for yourself, a viewer. This is what I think.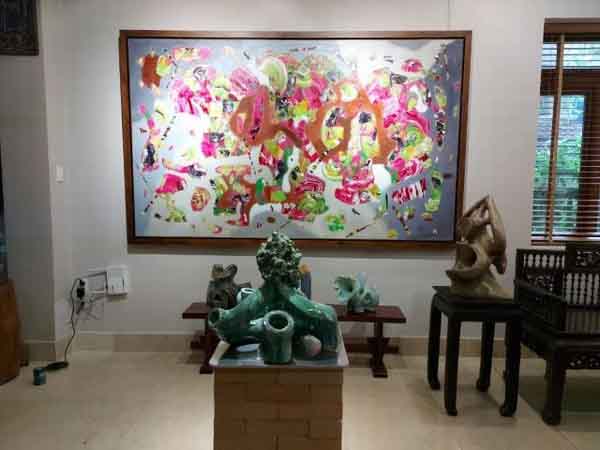 I was struck even by the name of this new exhibition, "Surreal Dreams" (his first solo exhibition, "The Flying Man and his Surreal Dreams", was in Hanoi). The word "Surrealism" sounds somewhat domineering, imposing, which forces me to "build a defensive wall" when I look at the paintings. And quite a lot of them! A large amount of paintings of all sizes on display from the main hall to the two aisles and also in the back room of the vast Ho Chi Minh City Museum of Fine Arts.
For, as my own very personal taste is "Surrealism", it must be something like the Spaniard Salvador Dali, the Belgian René Magritte, or our Nguyen Dinh Dang, for example. And if it occurs to mind the "Surrealist Manifesto" in 1924 by André Breton "Patriarch of Surrealism", then, of course, we would have to mention a whole bunch of other outstanding followers of the early Surrealist school, something I'd not venture to talk about. "Surrealism" roughly speaking, is different forms of escaping from reality in painting, seeking instead other ways to exploit the unconscious.
So in this respect, has Dinh Phong touched this point yet?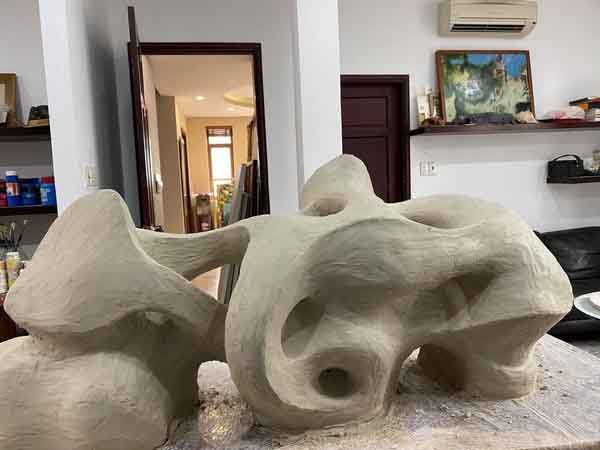 I learnt, while seeking out more related information after returning from the exhibition, that Dinh Phong is a businessman, and has also been, for decades, a well-known collector of paintings (who has under his belt works by painters like Nguyen Tu Nghiem, Tran Luu Hau…). However, Dinh Phong has only officially started painting since 2020 – up to this point, there have been two solo exhibitions bearing his name, with quite a large number of paintings and sculptures.
The surprising, and at the same interesting part, is that Dinh Phong skipped the "Realism" stage and instead went straight to the school that is more or less still "fashionable" in Vietnam (albeit not exactly so if you look at the wider context of the outer world): Abstract. Or even Abstract Expressionism. And, at the same time, in the realm of "Surrealism", as the artist himself put it in his titles, through his two very impressive momentum-building exhibitions.
Perhaps, only perhaps, the case of Dinh Phong is both different from and juxtaposing to the typical case of the long-not-seen creative world full of originality in Vietnamese painting: Tran Trung Tin (1933-2008), a painter who took to the brush as the inspiration arose inside him, without having attended any painting school (he started teaching himself to draw at the age of 36, his first solo exhibition was in 1989 when he was 56). Saying about his own Expressionist paintings, the self-taught painter Tran Trung Tin, as if relating to a self-portrait, stated that his works are something like "walking in a dream while the eyes are still open…" That is the same artist once recognized by the prestigious newspaper The Independent: "Tran Trung Tin is Vietnam's greatest artist" in painting. Painter Bui Xuan Phai commented: "Tin's colour is the colour given by God."
Dinh Phong seems to have found "The way to love history" for his "reality" with his mind rich in life experience and the personal style of someone not unlike the veteran scholar Vuong Hong Sen – with a good dose of "more than half of my life is a bad one" like that of the old man – when he decided to take up the paintbrush.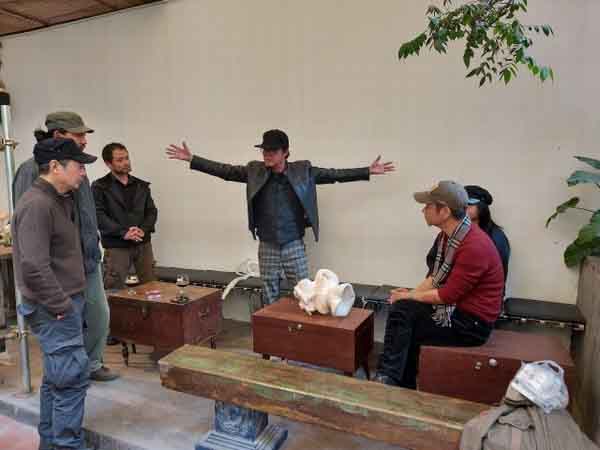 From a viewer's perspective, I must admit that I've struggled quite a bit; I had to now take some steps back, now come a few meters closer, sometimes I had to try to take blurry photos (like squinting my eyes to draw pictures) to focus on all the dithering dancing of colours and temporarily ignore the outlines and composition of the void, and then sometimes try a close-up, taking a much detailed corner of the canvas signed by the artist for the purpose of mirroring the acrylic on canvas effect, like I'd done once while silently watching the burlap background, which is only covered with a delicate but no less sophisticated oil paint, in some places in the paintings of Mr. Bui Xuan Phai.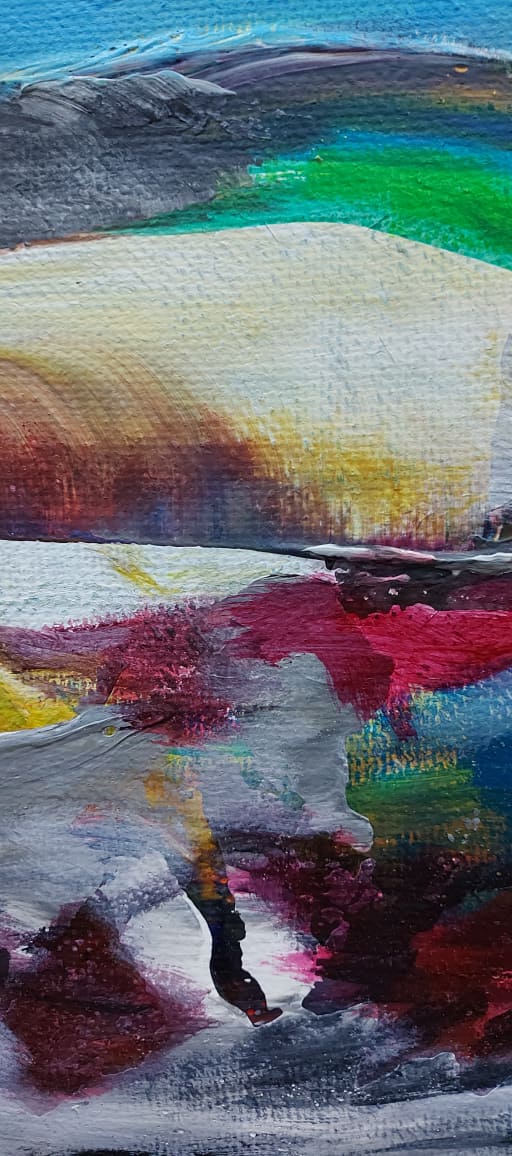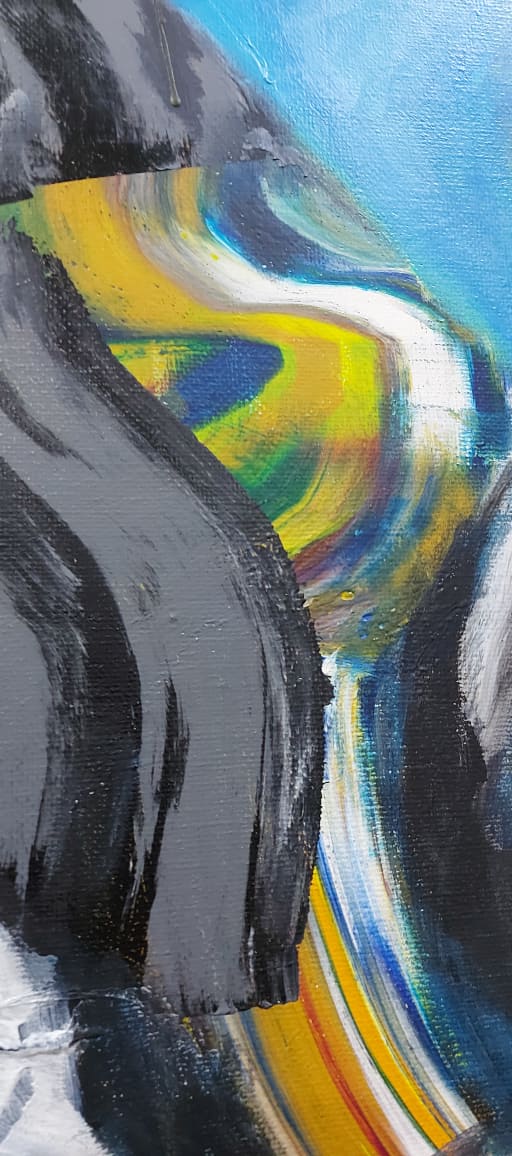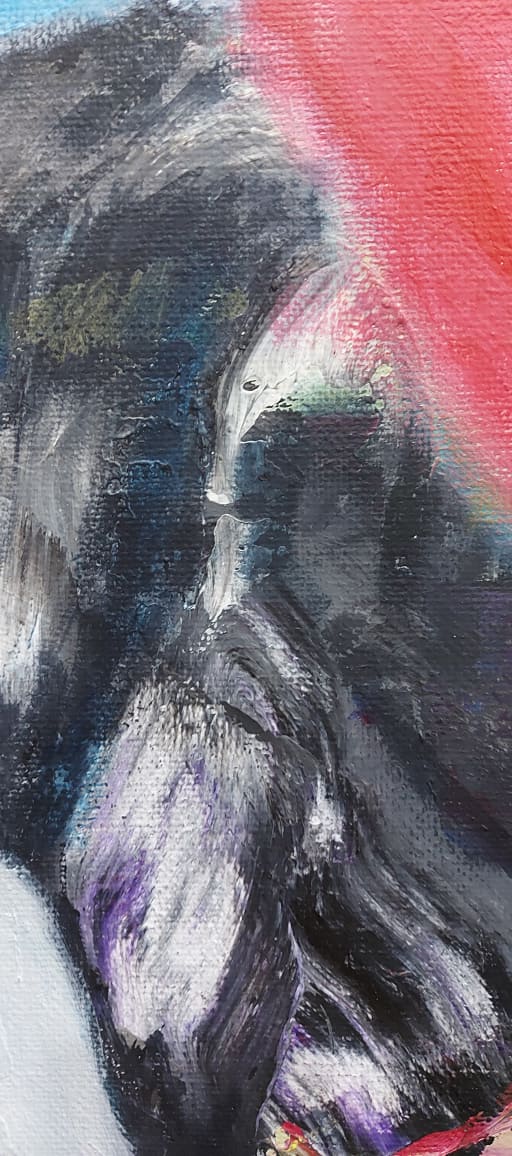 For the "Dinh Phong style" animated painting shapes gives me a feeling of confusion between reality and dreams, and then even a delirium told by some narrator who seems to be lost in the space of his story. Those splashes of colour, both hot and cold, can be a memory of the kaleidoscope of childhood, a banner fluttering in the festive season, a mosaic of inner soul drifting where life passes, or even just the vomit with which an artist who have sworn to "put down the knife to become a Buddha" can clean his soul… Who knows, who knows. But the artist probably doesn't want to interpret it verbally, because "Rain falls without translation" (Trần Dần, poet).
But any experience must end only with the creator.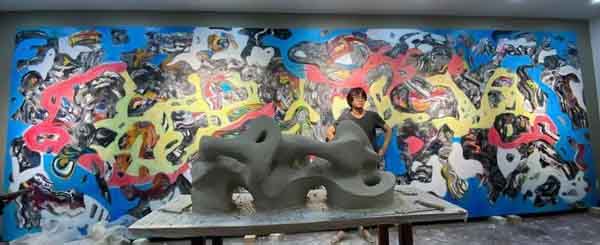 Viewers must also manifest their emotions by themselves, in their own way. There's no need to "uncover the cloud gate". Just try to open the door of the "secret room" as you like, and realize it yourself. Like the way movie geeks watched the classic In the Mood for Love by Wong Kar-wai (2000) over and over again. (The name of the film, in Sino-Vietnamese, "Flower in the form of a millennium", means "Years happily pass like petals".) If you watch it many times, of course you will no longer see the content of the story, so you have to try it sometimes with your eyes closed and sometimes with your ears covered. To clearly feel what each frame's rhythm really is without the sound of music. Or just to enjoy the sound and music of each scene without viewing the image. As the main soundtrack of the film, "Yumeji's Theme" (by Umegayashi Shigeru), or the song "Bengawan Solo" used as supporting background music for the movie, or the song "Orchid flower" (adapted from the song "La Violetera") in Mandarin…
Of course, simply viewing pictures will hardly encounter the "synaesthesia" syndrome – a Greek term for the perception of combined senses, which has been recorded in world literature. Legend has it that the famous Arthur Rimbaud could "hear" every colour, the great Beethoven could "touch" each sound …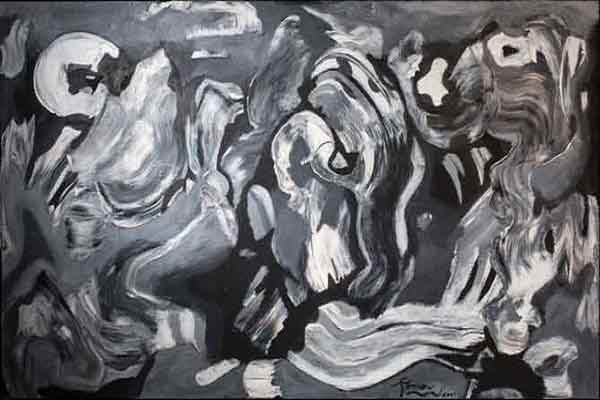 That danger, if any, seems to be a blessing!
"I weep for the horizons where
there are no people who fly
Again I weep for the people who are flying without a horizon."
Feelings on World Art Day, 2021
Director Chau Quang Phuoc